Prometec's automated biomass sampling system chosen for new Danish project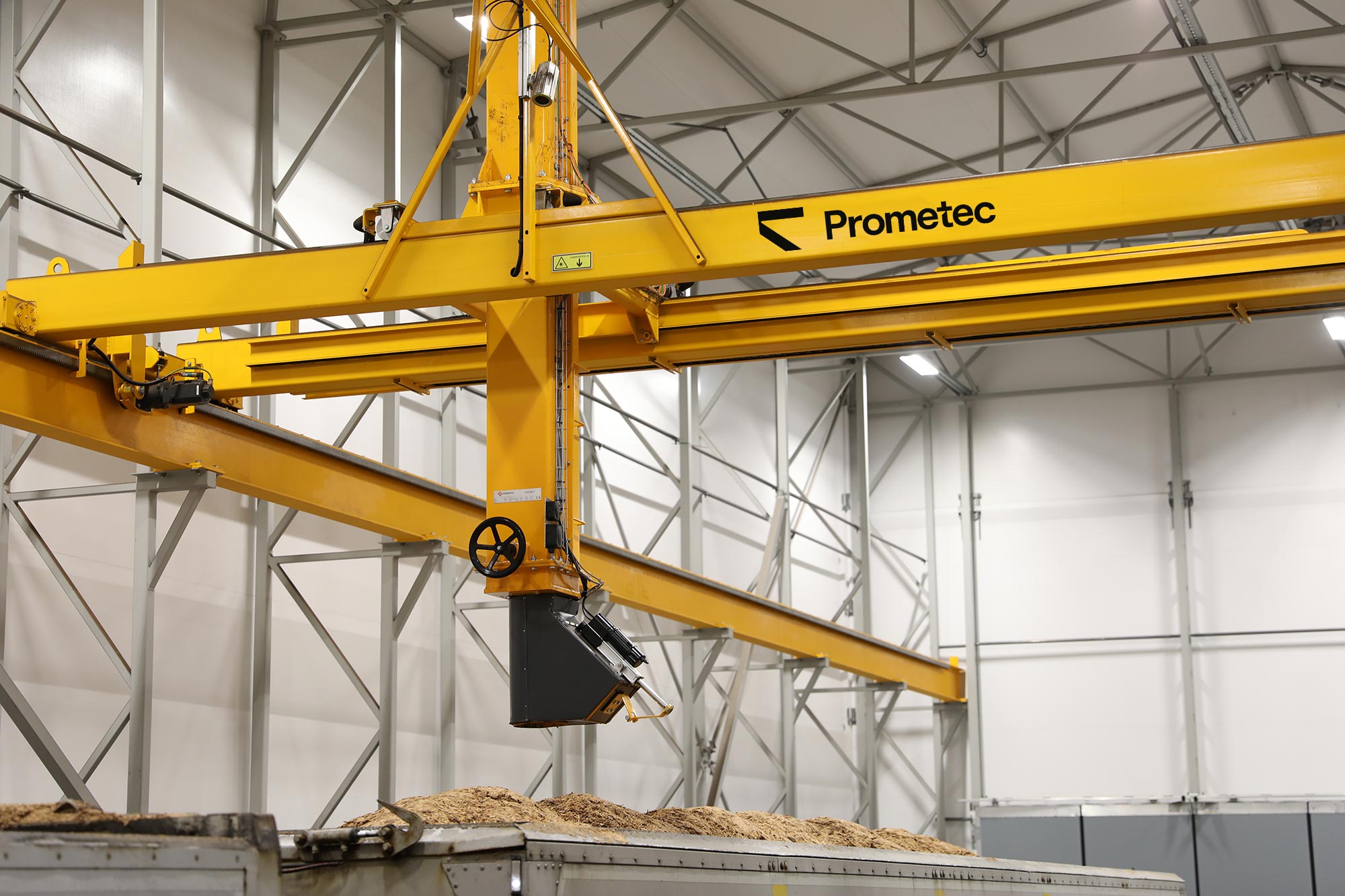 Prometec's automated biomass sampling system chosen for new Danish project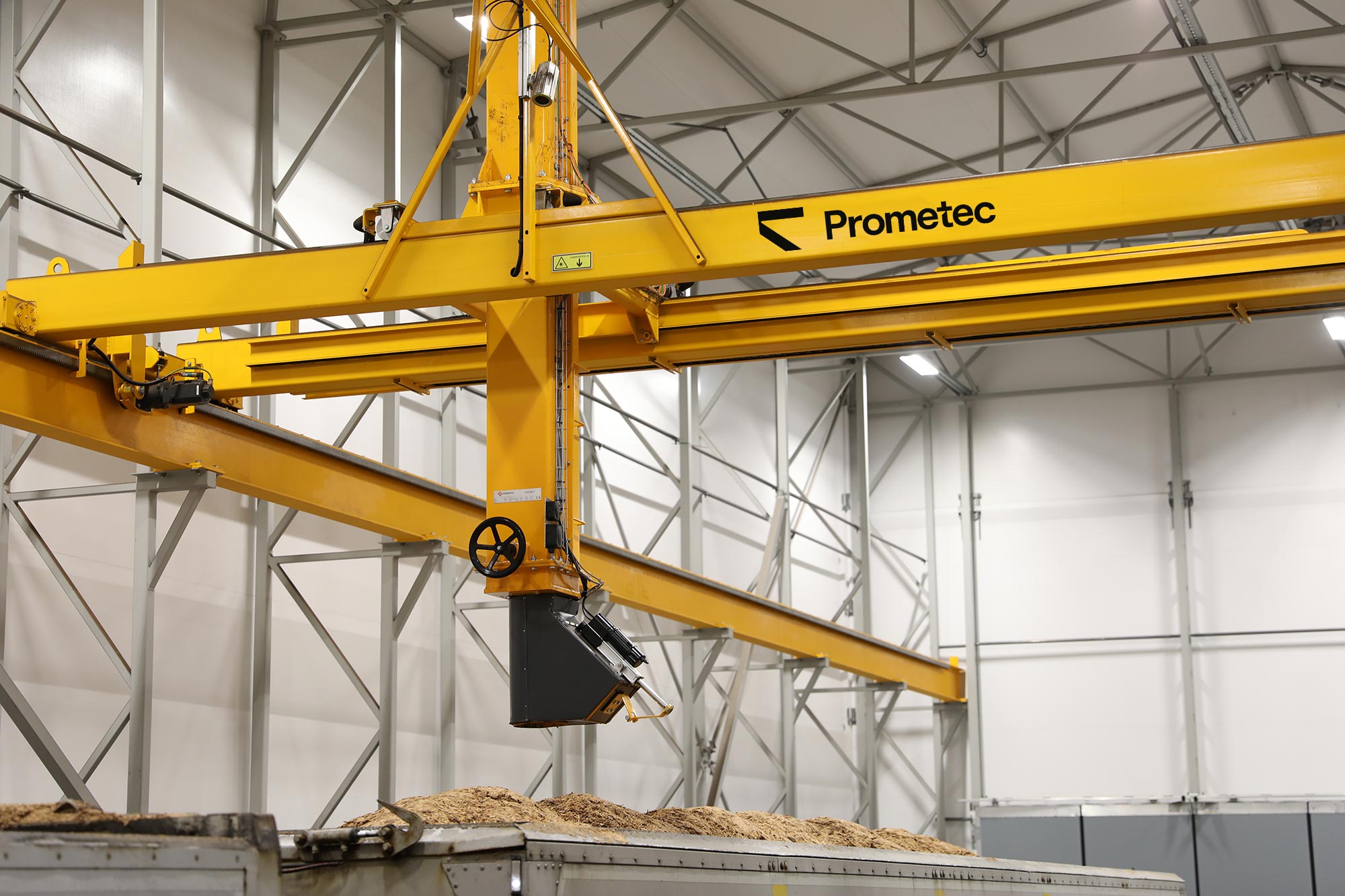 Prometec, the biomass quality control company from Finland, is delivering a comprehensive sampling solution to Fjernvarme Fyn's site at Odense. This large biomass project will be fully commissioned in 2023, and Prometec's fully automatized sampling solution will obtain real-time information from each biomass load to optimize energy efficiency and help improve safety at work.
The sampling solution will be installed in the sampling building at Odense. The sampler collects representative samples directly from each biomass delivery and provides real-time moisture information from each load before the truck leaves the sampling station. Prometec's patented Q-Robot is equipped with an innovative technology measuring device that measures the moisture content of the sample as soon as the sampling is completed. The moisture data is usually used as the basis for the fuel load payments. In addition, a fully automatic bagging system has been integrated into this sampling solution to bag the samples taken by the Q-Robot for laboratory analysis. This comprehensive sampling solution is the first of its kind to be fully automated, including sample handling and moisture measurement, which significantly reduces the amount of laborious laboratory work which saves time and money.
"Moisture information is vital for power plants to optimize their combustion processes and know exactly how much energy has been delivered to their sites," said Juha Huotari, Prometec CEO.
"We are committed to sustainability and work safety, and technological solutions are essentialMore information about biomass material means that we can operate in a more energy efficient way, " stated Thomas Knudsen, Project Manager at Fjernvarme Fyn.
Marlene Kronborg Robanke, Strategic Buyer says, "Fjernvarme Fyn is building a state-of-the-art biomass plant. We are delighted  to start a cooperation with Prometec."
"There has been much discussion about biomass usage. We aim to be the company to deliver accurate information to our clients about biomass so that they can adjust their processes and operate in a highly energy efficient way," said Henna Karlsson, Prometec CTO.
"The cooperation with Prometec is bringing the market a groundbreaking solution where the heterogenous biomass material can be checked in representative way and automatically in rea-time. We have developed a moisture device with Prometec for several years," said Markku Tiitta, Puumit CEO.
Fjernvarme Fyn is Denmark's third largest district heating company and is owned by the municipalities of Odense and Nordfyn. The company owns the largest combined heat and power plants on Funen, has almost 300 employees, and is one of Europe's largest heat suppliers. We cover approximately 97% of the heating demand in Odense and the surrounding area, corresponding to more than 200,000 residential units. District heating is supplied according to the general guidelines set out in the heating plan, which defines supply areas and more. Fjernvarme Fyn's aim is to provide customers with the best possible heat supply at the cheapest possible prices, while helping to increase customers' energy and environmental awareness.

Prometec is a Finnish technology company specializing in the quality control of biomass. Prometec has improved fuel quality control and energy efficiency in more than 20 heat and power plants since 2012. Sampling has been recognized as a key element in quality control due to the heterogeneity of wooden biomass material. The moisture of the material varies even within one load, and it is necessary for energy efficiency to have accurate moisture information about each biomass delivery. Prometec's Q-Robot automated sampler systems analyze more than 60,000 truckloads and 12,000 train containers of fuel per year in three countries.
Juha Huotari, CEO, Prometec, juha.huotari@prometec.fi +358 50 591 7350
Dorthe Due Head of procurement due@fjernvarmefyn.dk, +45 21 70 9259
Company links